When Coy Van Valkenburgh attended high school, career and technical education options were mostly limited to agriculture and welding courses.
Van Valkenburgh, Nacogdoches ISD's new Director of Career & Technical Education department, participated in those courses and then was fortunate enough to begin work as a pharmacy tech straight out of high school, using the on-the-job training to earn a certification while going full-time to college.
"While this was not the industry I would pursue as my career, it gave me invaluable lessons and professional skills that I was able to carry with me in my healthcare and educational careers," said Van Valkenburgh. "That certification allowed me to work my way through college and network with other professionals as well. My passion for CTE is driven by having a personal connection to how each of our programs can have a similar impact on a student's future.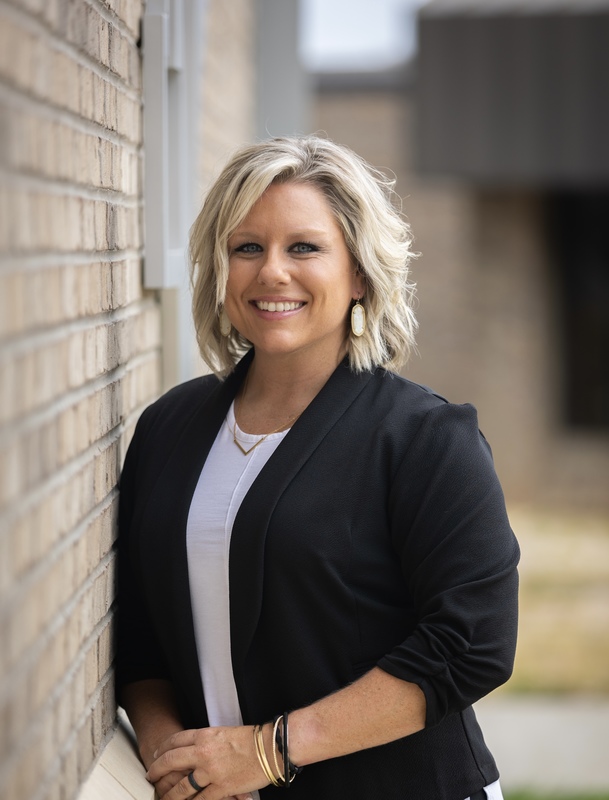 New CTE Director Coy Van Valkenburgh (Photo by Cody Gill)

Van Valkenburgh has been named NISD's Director of Career & Technical Education, replacing Jacob Lusk, who accepted a similar position with Fort Worth ISD last month. She has been with NISD since 2018 and spent the previous academic year as the department's student success advisor. She's also been a health science instructor and advisor for HOSA, a student-led organization for future health professionals.
Moving forward is vital for the district's CTE department, Van Valkenburgh said.
"My goal is that we do not become stagnant, that we continue to learn, grow, and educate, while keeping our different programs relevant and engaging," she said. "I want our students to think beyond a book and classroom and be prepared with those skills that are most needed to be not only good employees, but good human beings. I want our students to be confident and proud when they leave our CTE programs to pursue experiences beyond the walls of Nacogdoches High School."
Introducing more CTE courses to students while they're still in middle school will continue, Van Valkenburgh said.
"We will continue to evaluate the needs of each program and barriers that may be present, this will also include evaluating the courses at the middle school," she said. "Currently, we are introducing more CTE courses to middle schoolers that will count towards students' high school technology credit."
One thing Van Valkenburgh will continue to emphasize is CTE's importance to all students – those attending college and those heading to vocational training or directly into the workforce.
"CTE is an opportunity for all students to gain skills and experiences that will prepare them for post-secondary opportunities, regardless of the direction they're headed," said Van Valkenburgh. "I am a strong believer that for students going through a four-year program it will help either strengthen their interest and learning in that particular career or help broaden their outlook on another profession, while still gaining a diverse training that can help them in multiple aspects of life.
"The certifications that students can earn give them options. With training in a particular field and earning an industry-based certification as well, this allows students to go directly into the workforce, be prepared to continue their education and training in college or trade school or equip them with the opportunity to work in a high demand field while also going to school."
Sharing with Nacogdoches ISD stakeholders the importance of career and technical education is essential for the future of the program, Van Valkenburgh said.
"Ultimately, I want our stakeholders to know the importance and contributions that our CTE programs can make within our community and school district," she said. "During my time with Nacogdoches ISD, I've seen a lot of progression and growth across the board, especially within CTE.
"I believe that CTE is a key component to what our district has to offer and that we have a unique opportunity to contribute to our students' education while preparing them for real world experiences."
Before joining NISD, Van Valkenburgh was an athletic trainer for Angleton, Carthage and Pearland ISDs and also taught health science technology courses. She was an athletic trainer liaison at University of Texas Health Science Center in Houston and served as a corporate health consultant for Nacogdoches Memorial Hospital.
"Having the opportunity to experience both industry and public education from many different aspects has allowed me to be able to see things from multiple perspectives," Van Valkenburgh said. "I think this is an important piece to the puzzle of being a director and overseeing many moving pieces that must work together for a common goal."
Van Valkenburgh earned her Bachelor of Science degree from Sam Houston State University and a Master of Science in Athletic Training from Stephen F. Austin State University.