While more Nacogdoches High School students than ever are taking Advanced Placement exams, the percentage of students passing those tests and earning distinctions is growing at an even greater rate.
In 2022, 188 NHS students took 297 AP exams and nearly 58 percent, or 169 students, received a score of at least a 3 (which is passing) on the demanding exams. In 2018, 72 NHS students took AP exams and 36 percent received a score of at least a 3.
AP exams are administered by the College Board, the organization that oversees the SAT, a popular college admissions test.
"When you increase the number of students taking the tests, the percentage of students passing will typically decrease," said NHS Associate Principal Claire Bray. "Statistically, our scores should level off, but that is not the case."
The number of AP Scholars at NHS, those students receiving a score of a 3 or higher on three or more exams, reflects the overall trend in passing rates. In 2018, eight percent of NHS students achieved AP Scholars status; four years later, 21 percent of students earned the distinction. Seven NHS students earned the highest honor of AP scholar with Distinction by scoring a 3.5 or higher on five or more of the exams.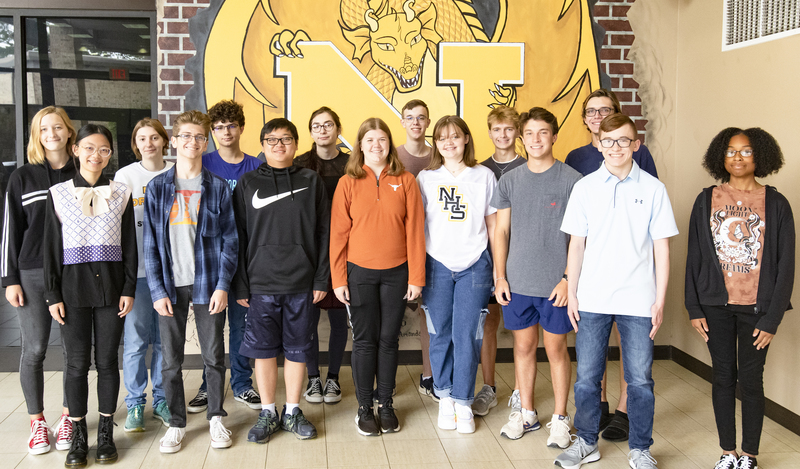 NHS students who earned AP Scholar (from left) – Veronika Willardson, Grace Hall, Viviana Nieberding, James Teekel, Noah Hewitt, Kevin Zhu, Chloe Nieberding, Audrey Bray, Daniel Hook, Whitley Howell, Holden Kelly, David Taravella, Noah Satir, Matthew Dossett and Kailey Busby.
The growth in the number of students at NHS earning passing scores and distinctions from the College Board is not a one-year anomaly, Bray said. Growth has been steady since 2018.
"This is another reminder of the capabilities of our students and the instruction they receive from our teachers," said Bray. "We've got outstanding students at Nacogdoches High School."
Passing the AP exams burnishes a student's resumé; it can also earn college credit in those courses.
NHS students from the 2021-22 academic year who earned AP Scholar and other awards: Audrey Bray, Yiming Hao, Nicholas Bacarisse, Kailey Busby, Matthew Dossett, Noah Hewitt, Daniel Hook, Whitley Howell and Holden Kelly.
Also, Jessica Moreno, Christopher Nieberding, Vivyan Nieberding, Jordan Rankin, Noah Satir, David Taravella, James Teekell, Veronika Willardson, Kevin Zhu, Isabella Baker, Julia Bray and Michelle Coffee.
Also, Jade De La Garza, Nyssa Galatas, Mariana Guerrero, Haris Hashim, Jason Hernandez, Bianca Honorato, Savanah Lambert, Israel Leon, Adriana Lopez-Aguirre, Israel Ocampo, Dustin Parker, Emily Rayo, Brisa Rocha, Laree Rose Smith, Denia Venegas, Arya Vyas, Jasmine Weng and Ian Williams.
Thirteen students at Nacogdoches High School received additional recognition from the College Board. These students received additional awards by having a grade point average of at least 3.5 and qualifying via four categories: African American/Black, Hispanic/Latinx; Indigenous; or attend high school in a rural area or small town: Audrey Bray, David Taravella, Holden Kelly, Jordan Rankin, Kailey Busby, Luis Aguirre, Nayeli Carrillo, Nicholas Bacarisse, Parker Bobo, Polina Willardson, Veronika Willardson, Viviana Chavarria and Vivyan Nieberding.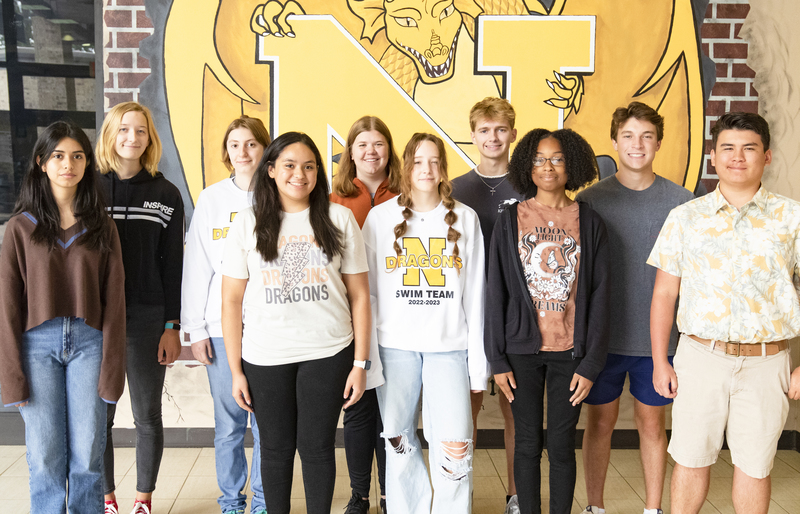 NHS students passing AP exams while also possessing a GPA of at least 3.5 qualifying in one of four different categories: (from left) Viviana Chavarria, Veronika Willardson, Vivian Nieberding, Nayeli Carrillo, Audrey Bray, Polina Willardson, Holden Kelly, Kailey Busby, David Taravella and Parker Bobo.
NHS is offering 14 AP courses this academic year: English Language and Composition, English Literature, Human Geography, U.S. History, European History, Psychology, Statistics, Biology, Physics I, Environmental Systems, Seminar, Research, Drawing and Design.