Another year, another National Merit semifinalist for Nacogdoches High School.
NHS senior Vivyan Nieberding learned Thursday she had been selected as a semifinalist, one of roughly 16,000 across the nation.
Vivyan is ranked No. 1 in the Class of 2023 out of 396 students at NHS.
Semifinalists are required to meet a number of requirements before being considered as a Finalist. Those qualifiers will be announced in February.
The National Merit program begins with roughly 1.5 million entrants and was pared down to 16,000 students in September. In February, the 15,000 Finalists will be announced before the 7,250 Merit Scholarship winners are named in May.
"Vivyan is an outstanding student, and she stands out in what's an outstanding class of seniors this year," said NHS Principal Stephen Autrey. "The talent that's present in our student body never ceases to amaze me. There are so many great students here doing great things, and I can't wait to see what's next for Vivyan."
Vivyan is the daughter of Dr. William and Nancy Nieberding.
Additionally, two more NHS seniors were named Commended Students by National Merit Scholarship Corp. Holden Kelly and Noah Satir placed among the top 50,000 students nationwide by taking the 2021 Preliminary SAT/National Merit Qualifying Test. Holden is ranked sixth in the NHS Class of 2023, and Satir is ranked third.
Holden is the son of Tanya and William Kelly, and Noah is the son of Drs. Vicki and Cengiz Satir.
A year ago, Nyssa Galatas was a National Merit semifinalist before ultimately being selected as a National Merit Scholar.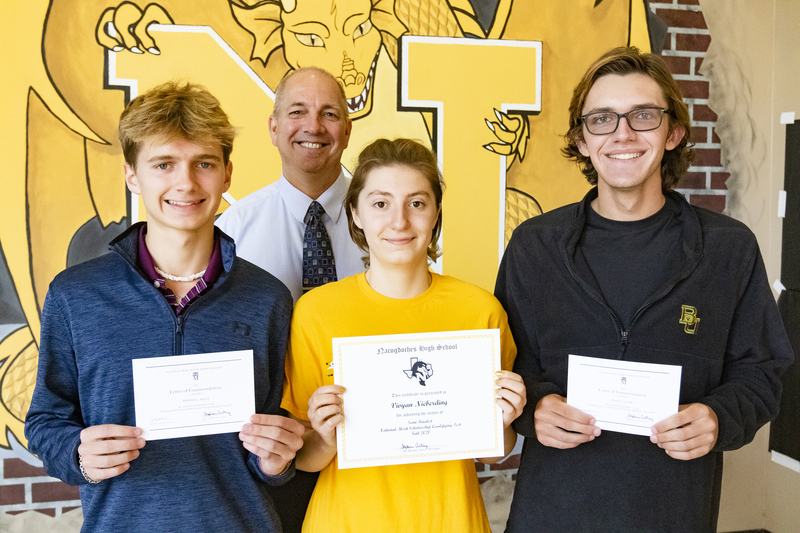 NHS students (from left) Holden Kelly, Vivyan Nieberding and Noah Satir shown with Principal Stephen Autrey (in back).